Parish Staff:
Pastore

Rev. Stephen P. Wirkes

Deacons:

Dc. Dean Brainard
Dc. Joseph Lupia Jr.
Business Manager:
Joseph Lupia Jr.
Administrative Assistants:
Anne Kolozsvary & JoAnn Binion
Faith Formation Director:

Gary Krajacic - 315-254-9804


Cemetery Director:
Laura Cavanaugh -315-345-8007
Music Director SFA & SMA:
Lynne Stocker - 315-633-2165
Music Director SM & SMA:
Mike McClelland - 315-278-7862

Prayer Chain SFA:

Marge Stevens - 315-633-9432
Prayer Chain SMA:

Margie Bowhall - 315-656-2333
Prayer Chain SMT:

Mary Rovall - 315-632-4068
Attention New Parishioners

If you would like to join one of our 3 Linked Parishes


Click on the link below to join

St. Francis or St. Mary's
Census Form
For St. Matthew's Parish
Click on the Link Below
Completed Forms can be
mailed to the Parish Office
229 W. Yates St. -
E. Syracuse, NY 13057
or
Drop it in the Collection on Sunday
Parish Office Mailing Address:
For our 3 Linked Parishes
St. Francis of Assisi (SFA)
St. Mary of the Assumption (SMA)
St. Matthew's Church (SMT)
229 W. Yates Street East Syracuse, NY
13057

Main Parish Office Phone Number
Phone Number: 315-437-8318
Fax Number: 315-463-6399
Email:
stmatth1@twcny.rr.com and stmarys2@twcny.rr.com

Physical Addresses:
St. Francis of Assisi (SFA),
7820 Route 298, Bridgeport, NY 13030
St. Mary's of the Assumption (SMA),
401 No. Main St. Minoa, NY 13116
New Parish Office Hours:
Monday - Thursday
9:00am to 4:00pm
Closed Friday's
Effective Tuesday, September 7, 2021
Please call the office for the
following:


Baptism: arrangements made 1
month prior to and parents are
required to attend Baptism Class
prior to the Baptism.
Marriage: arrangements must be
made at least 6 months in advance
Hospitalized Parishioners: please
notify the rectory when a family
member is admitted to a hospital or nursing home so the priests can
provided for their spiritual needs
Communion to Sick / Shut-ins:
at anytime
If your out of town and need to find a
Catholic Church click on the link for
Catholic Mass Times
Looking for a Grave Site -
St. Mary's Cemetery Minoa, NY
CLICK HERE
Weekly Contributions

Can now be done on line, it's secure.
It's easy and it's a click away
Just choose the church you want to donate to
the best way to stay informed Sign up for flocknote
it's easy and safe
Don't be left behind
3rd sUNDAY OF advent - joy
gaudete Sunday
Mass Times



Saturday - 4:30 PM at St. Matthew's
Sunday - 8:00 AM at St. Matthew's
Sunday - 9:30 AM at St. Francis
Sunday - 11:00 AM at St. Mary's
Donations can also be mailed to:

229 W. Yates Street
East Syracuse, NY 13057

Donations can also be mailed to:
229 W. Yates Street
East Syracuse, NY 13057 Or
Drop it in the Mail slot of the Parish Offices
at St. Matthew's
monday Nights
st. mary's Parish center
IT is highly recommended to wear Masks
For all indoor Church Functions
the Synodal listening session
The Holy Father has called for a World Synod of Bishops to be held in Rome in October 2023, and has asked all diocesan bishops to consult with the People of God in their diocese in preparation. This is the first time that the entire people of God have been invited to speak to their bishops of their hopes and dreams for their parish, their diocese, and the world in such a formal manner. Bishop Lucia will hold a Listening Session throughout our Diocese
ALL are welcome! This is your chance to speak from your heart to our Bishop Lucia. Come and bring a friend!
Monday, December 6th
6:30-8:30PM St. Paul's Church, Binghamton
Thursday, December 9th
6:30-8:30PM Basilica of the Sacred Heart, Syracuse
Monday, December 13th
6:30-8:30PM St. Vincent-Blessed Sacrament Church, Vestal
Wednesday, December 15th 6:30-8:30PM St. Thomas Aquinas Church, Binghamton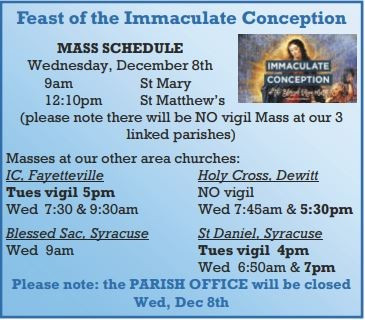 thank you
We would like to thank everyone that helped with "Breakfast with Santa"
It was definitely a TEAM Effort
We would also like to thank those who joined breakfast.
The Event was a Great Success
A Special Thanks to the Knights of Columbus